Copyright © 2018 UCVC - Company No. 5760614. All Rights Reserved.
Once the rally season ends we will add up the monies from the Child Bereavement UK collection boxes that we have had on our cars at the Club stands plus the £544 from the Anniversary Day along with £50 from "Drive it Day" and we will send them a cheque.
We have just changed our modern car for a Ford Kuga SUV and although not brand new it has still come with all the bells and whistles including self- parking (which I have yet to use) and as we did the first long drive to Blenheim Palace to meet my brother for a day out I started to think back to when I was a young boy, remembering the E83W Ford van that my Grandfather used to own. He was a GPO driving instructor and as well was very skilled with his hands. He had cut windows into the sides and made seats to go in the back as well as a front passenger seat. Anybody who knows these vehicles will remember that the driver's seat was almost to the floor with the pedal box being below floor level so on days out it made for a very amusing drive. Being so self- sufficient, my grandparents had a pump-up paraffin primus stove, container of water and a metal kettle in the back to make tea. I wonder what he would have made of vehicles today with all these modern feature. As a family we travelled miles in this van and my grandad never used a map it was like he had a sat-nav in his head.
VERY URGENT WANTED CLUB TREASURER
Shirley Keen is giving up her role as Club Treasurer so we need to find someone to take over from her as soon as possible. If you feel this is something you may be able to do please contact me (details on back page). The accounts are done on an excel spreadsheet at the moment but if you would prefer to it manually that would be ok. Shirley will give full support to the new treasurer. There must be a club member out there who has the experience to take on this important position.
Denise, Rob, Mary and I made a visit to Norman Grundon's home to finalise the details with Paula, his PA, for our 55th Anniversary Celebrations. Hopefully this good weather will continue through till August.
A couple of members have asked if anyone knows of a mobile Auto Electrician who can deal with classic vehicles. If anyone knows any details could they contact me so I can pass on their details.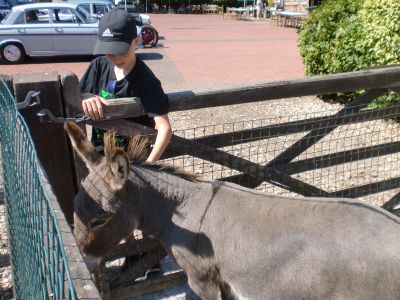 I am so pleased at the success of the 55th Anniversary Day. A big thank you to all our members who attended the celebrations and to everyone who helped out on the day. Mary & I have written a short article with photographs further along in the magazine.